Painting Company Reviews Near St. Petersburg
If you'd like to have the best painters in St. Petersburg, Clearwater, Largo, Tarpon Springs, Palm Harbor and surrounding areas paint your house, give Carlson's Proficient Painting a call today. We work hard to ensure that we exceed all customer expectations. With every painting project, we strive to be considered the best painters in St. Petersburg, FL, and the surrounding area. But don't just take our word for it, read our house painting reviews below and see what our customers have to say.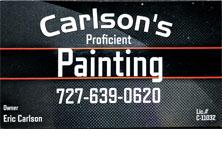 04/29/2020
Positive: Professionalism, Punctuality, Quality, Responsiveness, Value Negative: None Carlson's is not just Proficient, they're also Professional, Punctual and Personable, and, well, all around good guys. After getting multiple bids to paint our two-story house, we selected Eric and his crew. Not only did they offer one of the best prices, but they also provided the most detailed quote, as well as the most in-depth bid package from Sherwin Williams (which explained every step of the prep, repairing, sealing and painting process). It's obvious Eric truly cares about his work (and so does his crew). He's a man of his word, and won't stop until he gets it right. Integrity is a hard thing to find nowadays; Eric has it. We'll be using him again, and referring him to friends. We've had so many compliments on the job Carlson's did; heck, half the neighborhood wants him to do their houses!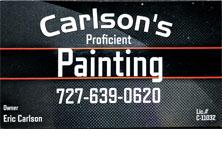 Mr. Carlson WAS ON TIME EVERY TIME!!! On our first meeting everything was explained, the time line the painting process the quality of the paint he would use and the equipment he would be using. Mr. Carlson also took the time to explain to my neighbors what he was going to do and any impact it would have on there property (there was none). The painting of my house meet all my expectations and more. No over spray on my plaints or grass, the cleanup process was undetectable! Mr. Carlson also painted my Aunts house with the same professional results. Job Well Done!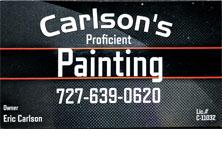 If I could give Eric and Carlson's Proficient Painting SIX stars, I would. Reasonable prices, super efficient. My wife and I couldn't be happier with the results! Also, initially there was a little miscommunication about the color paint we wanted and he had already ordered the paint. However, he was super understanding and ate the costs of the other paint and ordered the paint we actually wanted without hesitation! He and his crew came back several times to do touch-ups to make it looks absolutely perfect. If you want a HIGH PROFESSIONAL QUALITY paint job at budget prices, Eric at Carlson's is your man!!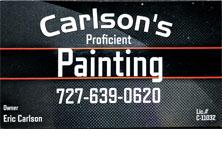 Eric and the rest of his team are amazing! They painted the entire exterior of my four story home and did an excellent job! They were always on time and very professional. The team was so nice to work with and now my house looks amazing!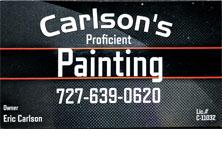 Carlson's Proficient Paint did an excellent job on painting my house inside and out and installing my windows. The price was great and I couldn't have asked for any better customer service. They were on time, courteous and very professional. I would recommend Carlson's Proficient Painting to anyone looking for a great job done and one done right the first time.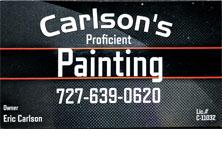 We recently had Eric and his crew into our Florida Condo to paint for us. Eric was timely from his first meeting with us to his crew's finish. He was very conscientious regarding our comfort during the job; helpful in keeping us informed about progress as they worked around us. He used high quality paints and went the second mile to be certain we were pleased with the finished product. His crew was pleasant, helpful and extremely neat. We have already recommended them twice in social circumstances and would highly recommend them to anyone. It is good to know there are honest people who want to do the job right.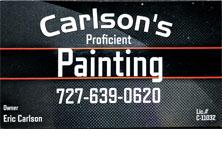 From the initial consultation, I knew that Carlson's Proficient Painting would be a good choice! It was clear that Eric appreciates the opportunity to go above and beyond to meet the customer's needs. He and his crew did a great job painting the interior of my home and I will definitely recommend him to family and friends!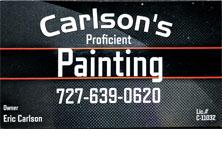 When I found Eric I didn't know his quality of work with painting but am happy as ever to say I'll be calling him and his crew to paint my house when time comes. He did an excellent job on my sisters house from painting to ceiling repair and then the eves. Everything was done well. I love getting everything done with one person. Thanks, Eric.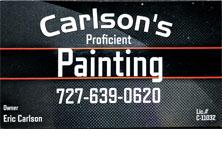 Eric and his crew were awesome! I had multiple estimates before making my choice, but after meeting Eric and seeing his reviews, I knew he was who I wanted to paint my house. They came on the day they said they would, and primed and painted the house in two days. They even replaced some rotted fascia for me. I would recommend them to anyone looking for a professional job.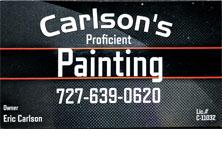 Eric was recommended by the gentleman who did my landscaping. So glad i had them perform the job. They were awesome to work with, on time and truly proficient. They repaired many of the issues i was having along with a beautiful paint job, they even went over and beyond by replacing all the light fixtures on the exterior of the house. Love the work they did and would highly recommend them to any of my friends. Even my neighbors are happy with the results.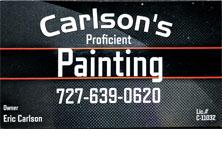 Excellent work, on time, cleaned up afterward. This old pool cage looks like new. This was a custom color to match the house.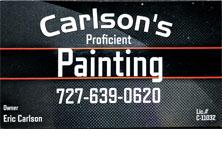 We found Carlsons through a referral from our screened enclosure company, Sr Screen, and are very glad we did. Rescreening and painting are 2 totally separate jobs, and these 2 coordinated quite well given the fact we were trying to have this done during rainy season...fine for screening, but dicey at best for outdoor painting! The 3 of us were in constant communication about the weather delays and once they had a window of time, they executed quite well. The quality of the work is great, and when I requested a few other minor things that came up, they were taken care of without hesitation. Again, very professional and clean...would certainly refer and use them again.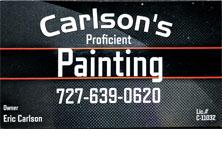 Carlson's Proficient Painting did an awesome job painting a large room in our home. Eric, the owner, is friendly, a great communicator, and very easy to reach. He was eager to go the extra mile to make sure we were completely satisfied with his company's work. I definitely recommend them.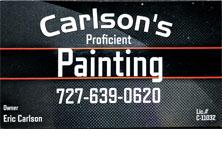 Eric and team did a fantastic job making my Florida pool screen look like new. They completely stripped it down and re-sprayed it with a high quality finish. They were a very professional group and exceeded my expectations.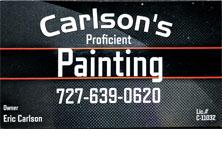 On time, friendly, professional, and very talented... Highly recommend Eric!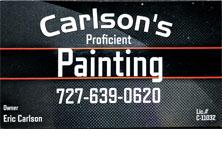 Eric was so great. Responsive, fair pricing, great communication and his team showed up promptly on the dot when the job started. They did a great quality paint job for my 2 story vinyl exterior and made sure to do final touch ups and cleaned everything up before leaving. They were friendly and hard working. He is also licensed and insured and was super willing to prove it! Highly recommended.
Carlson's Proficient Painting can help you improve the look of your home at a fraction of the time that it would take you to do it yourself and at a very reasonable price. We'll work closely with you to understand the exact cost of painting your house right down to the smallest detail.
Get the best house painters in the St. Petersburg, FL area, and choose Carlson's Proficient Painting for your next house painting project. We'll make it our goal to make you so happy with our work your review will be the next positive customer review that we feature. We'll be happy to give you a free quote. Call us today at 727-639-0620, or request a free estimate using our web form.