who we are
Carlson's Proficient Painting Offers Painting Services You Can Count On!
Serving the St. Petersburg Area since 2013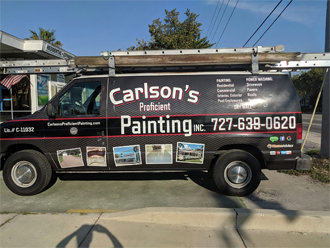 Carlson's Proficient Painting is a full-service St. Petersburg painting contractor serving the St. Petersburg, Clearwater, Largo, Tarpon Springs and Palm Harbor areas of Florida. Our skilled painters provide residential and commercial interior painting services and exterior painting services to homeowners, apartment complexes, property management companies and other businesses.

In addition to painting, we also do deck refinishing, power washing, gutter cleaning and many other things that will make your home or commercial property look great. Our professional painters will help you cross off many projects on your checklist. Regardless of the type of work you need us to do, you can rest assured that you will receive great customer service, and that you'll be happy with the results.

As a St. Petersburg painting contractor we've taken on a lot of different types of painting projects. Our expert painters know how to get the job done with high quality in a short period of time. We are willing to tackle the most challenging jobs. Please don't hesitate to call us with your toughest paint jobs.

We will also help you by taking on an incomplete DIY project or a job that another painting contractor may have started but wasn't performing to your expectations. We've seen some unfortunate missteps and are happy to come in and fix or finish a project that got off to a bad start.

We know that most homeowners don't take the decision to go through with a major house painting project lightly. We work closely with our St. Petersburg customers to ensure satisfaction. Our talented and qualified painters will help you get the look and feel you want. We will happily answer any questions you may have throughout the process. We are a painting contractor that wants to work with you on scheduling. We will create a schedule that best accommodates your life.

If you are looking for high quality craftsmanship from a St. Petersburg painting contractor that won't break your budget, you should give Carlson's Proficient Painting a call. We'd be delighted to work with you. Give us a call today at 727-639-0620 to talk about your painting project.
Carlson's Proficient Painting
Painting Contractor serving the St. Petersburg, Clearwater, Largo, Tarpon Springs and Palm Harbor areas
Testimonials
Positive: Professionalism, Punctuality, Quality, Responsiveness, Value Negative: None Carlson's is not just Proficient, they're also Professional, Punctual and Personable, and, well, all around good guys. After getting multiple bids to paint our two-story house, we selected Eric and his crew. Not only did they offer one of the best prices, but they also provided the most detailed quote, as well as the most in-depth bid package from Sherwin Williams (which explained every step of the prep, repairing, sealing and painting process). It's obvious Eric truly cares about his work (and so does his crew). He's a man of his word, and won't stop until he gets it right. Integrity is a hard thing to find nowadays; Eric has it. We'll be using him again, and referring him to friends. We've had so many compliments on the job Carlson's did; heck, half the neighborhood wants him to do their houses!

Leigh Ann Tucker

, 04/29/2020

Mr. Carlson WAS ON TIME EVERY TIME!!! On our first meeting everything was explained, the time line the painting process the quality of the paint he would use and the equipment he would be using. Mr. Carlson also took the time to explain to my neighbors what he was going to do and any impact it would have on there property (there was none). The painting of my house meet all my expectations and more. No over spray on my plaints or grass, the cleanup process was undetectable! Mr. Carlson also painted my Aunts house with the same professional results. Job Well Done!

Steve Y.

If I could give Eric and Carlson's Proficient Painting SIX stars, I would. Reasonable prices, super efficient. My wife and I couldn't be happier with the results! Also, initially there was a little miscommunication about the color paint we wanted and he had already ordered the paint. However, he was super understanding and ate the costs of the other paint and ordered the paint we actually wanted without hesitation! He and his crew came back several times to do touch-ups to make it looks absolutely perfect. If you want a HIGH PROFESSIONAL QUALITY paint job at budget prices, Eric at Carlson's is your man!!

John S.

Eric and the rest of his team are amazing! They painted the entire exterior of my four story home and did an excellent job! They were always on time and very professional. The team was so nice to work with and now my house looks amazing!

Melissa H.

Carlson's Proficient Paint did an excellent job on painting my house inside and out and installing my windows. The price was great and I couldn't have asked for any better customer service. They were on time, courteous and very professional. I would recommend Carlson's Proficient Painting to anyone looking for a great job done and one done right the first time.

Rene B.

We recently had Eric and his crew into our Florida Condo to paint for us. Eric was timely from his first meeting with us to his crew's finish. He was very conscientious regarding our comfort during the job; helpful in keeping us informed about progress as they worked around us. He used high quality paints and went the second mile to be certain we were pleased with the finished product. His crew was pleasant, helpful and extremely neat. We have already recommended them twice in social circumstances and would highly recommend them to anyone. It is good to know there are honest people who want to do the job right.

Brent D.